Wednesday February 6 2008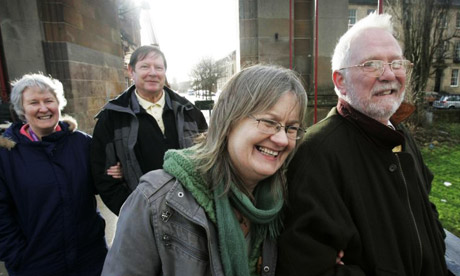 Six years ago, James McKillop asked organisers of a carers' conference in Scotland if he could attend and give a talk. When his request was refused, he posed as a photographer, gained entry and had his say anyway. McKillop laughs at his audacity now, but it kickstarted a career as an unconventional campaigner and marked him out as a new kind of advocate for people with dementia.
"They wouldn't let me go [to the conference] because I had dementia," he recalls. "That got me going. When you get a diagnosis, you're in a vacuum. You're put out the door and left there. Doctors and nurses have their unions, carers have their groups, but there wasn't a single [user] group for people with dementia. I thought: 'This is all wrong.'"
One year after he was denied access, McKillop attended the carers' conference as a guest and official speaker. In the intervening 12 months, he had recruited a raft of like-minded people with dementia and helped set up the campaigning group, the Scottish Dementia Working Group (SDWG). Alongside the 60 or so people with dementia who signed up, he has managed to secure a voice for people diagnosed with dementia in the corridors of Scottish power.
Fuelled by a righteous anger, the group has written to "anyone we could think of", McKillop says. When he found out that for early diagnosis of Alzheimer's, the UK "was propping up the bottom" of European league tables, he set about telling medical professionals and politicians that it was "unacceptable".
The group vigorously lobbied politicians and ministers in both the Scottish executive and Westminster and insisted on being consulted on dementia policy. It travelled the UK and Europe giving talks to medical professionals, telling them to rethink what living with a diagnosis of dementia means, and calling for improvements in the way people with a diagnosis are cared for. It has regular meetings with the Scottish minister for public health, Shona Robinson, and is represented on policy body, the Scottish Dementia Forum. Members also sit on the national council of Alzheimer Scotland, which part-funds SDWG and provides it with premises.
McKillop insists that the perception that someone with dementia "must be old, in the later stages and not able to take care of themselves" needs to be challenged - and if that means being pushy, so be it. "There are very low expectations of people with dementia," he says. "They don't think you can do things. Why do people fear us getting together? What did they think we would do?"
He says that while recent movies such as The Savages, in which a brother and sister come to terms with their father's diagnosis, and Away from Her, for which the actor Julie Christie has been Oscar-nominated for her portrayal of someone with dementia, are keeping the disease in the headlines, they tend to focus on the later stages of the illness.
McKillop stresses that SDWG exists to remind people that late-stage is "only one part of the story". He says that while dementia has been climbing up the political agenda because of projected increases in people being diagnosed in an ageing population, there is still a gulf of understanding between them and the people who make decisions about their lives.
Edward McLaughlin, an early recruit to SDWG, says people with dementia have been left little choice but to shout about it. "In my case, I want to bite arses and open eyes," he says. "They will not listen to polite conversation. They will not listen to you just trying to exchange ideas with them. You've probably got to shock them. Even the medical professionals are in the dark ages on dementia. They have preconceived ideas."
Mental rut
At a meeting in Glasgow, members of the group explain why banging on doors and turning up at otherwise restricted conferences matters. "[Medical professionals] are in a mental rut and this is what we are trying to change," McLaughlin explains. "We try to get ourselves invited to all the conferences and tell them about reality."
Campaigns are based on issues raised by SDWG members. Carers and supporters can attend meetings and have their say, McKillop says, but he has made it a prerequisite that it is people with a diagnosis who retain control and determine strategy. Another longstanding member, Agnes Houston, says the group is vital because it sheds light on some of the most difficult aspects of receiving a diagnosis, such as stigma and lack of understanding from doctors. But it is also important, she says, because it does so by championing the rights and abilities of people with dementia.
"You go into a hospital and they think they know better," Houston says. "I think we're trying to reach out and educate everyone, and to say that dementia is not the end. When you get the diagnosis, it doesn't mean you have to crawl into the corner and die."
But not everything is about being angry and protesting, she adds. Having a sense of humour has proved to be a key plank in the group's strategy. It helps break down barriers if people are unsure of how to behave around someone with dementia, according to Houston. That is why some in the group are currently working on a dementia joke book.
A few weeks ago, McKillop gave a talk to a group of student nurses at Stirling University. According to Philip Bryers, national coordinator at Alzheimer Scotland for SDWG, it was the latest example of the effectiveness of the group's "bolshie" approach. Feedback from the students was effusive.
"It demonstrates the impact it has when someone with dementia speaks to a group of professionals from personal experience," Bryers says. "On lots of occasions, people have told us that hearing someone talking from experience is better than dozens of lectures from people who know the textbooks but don't have the experience."
Bryers says things have been changing in the last few years and that, by pushing so hard, the group is now being invited to all kinds of conferences. "I think that Alzheimer Scotland would not now put on a conference without having somewhere in the programme someone with a diagnosis of dementia. There has been a big change. If anything, we are suffering from overload. There are too many invitations cope with."
The group is proving so popular that a separate arm catering for the north-east of Scotland, and taking in the cities of Dundee and Aberdeen, has been established. The goal, Bryers says, is to cultivate groups across the country that can campaign on issues both locally and nationally.
Dot Weaks, the only nurse consultant for dementia in Scotland, wrote her PhD thesis on why early diagnosis can change lives, and she has become an active supporter of SDWG. Appointed in October last year by NHS Tayside and now a professional adviser to SDWG, she says the group is unique. "They are real campaigners. They make themselves heard. They have managed to get the ear of government, and that is a very powerful place to be. They are there at the centre of things with politicians and professionals."
Lagging behind
Unlike other service user movements, such as those for people with mental health problems or for carers, Weaks says, dementia has been lagging behind, but that SDWG is helping to change that. "People ask me what I think of their campaigning," she says. "I say I run in to the campaigns with them."
Daphne Wallace, chief executive of the Alzheimer's Society, says SDWG is a welcome addition to a dementia service user voice that is blossoming across the UK. Wallace, a psychiatrist who has been diagnosed with vascular dementia, puts the trend down to improvements in early diagnosis. More people being diagnosed early means more are able to become advocates, she says. "It's been assumed that people with dementia can't advocate," Wallace says. "Thanks to earlier diagnosis, people with dementia are being taken seriously." And the fact that a number of people with a diagnosis are being consulted for health minister Ivan Lewis's national dementia strategy is, she suggests, a sign of the times.
Recently, SDWG secured a three-year funding grant from Comic Relief that was matched by Alzheimer Scotland. It gives SDWG, McKillop says, a chance to "broaden out" the groups it advocates for. He is keen to work with organisations dealing with Down's syndrome, for example, to advise on how best to advocate for those who develop dementia.
Around the table in Glasgow, the group members agree that in the half decade since it was established, much progress has been made. Bryers says they are "extremely pleased" that government in Westminster and in Edinburgh appear to be acknowledging the scale of the challenge facing the whole of the UK in years to come, and they welcome the fact that dementia has been made a national policy priority in Scotland.
Alzheimer Scotland estimates that between 58,000 and 65,000 people have dementia in Scotland this year. It suggests that between 1,350 and 1,600 of these are under the age of 65. By 2031, the number of people with dementia in Scotland is expected to rise by 75% to between 102,000 and 114,000.
McKillop and the campaigners at SDWG see their job as making sure this does not automatically translate into thousands more people being regarded as on the scrapheap. With early diagnosis and the right treatment, McKillop says, many people such as him lead productive, happy lives for a considerable time. When it comes down to it, people with dementia want to be treated properly and taken seriously. "That's all we want," he says. "To be treated as human beings."
· Alzheimer Scotland is at alzscot.org; the Alzheimer's Society is at alzheimers.org.uk
"chemical cosh" early death risk
The drugs were designed to treat schizophrenia
Patients with dementia are dying early because they are being prescribed sedative drugs inappropriately in nursing homes, warn researchers.
A five-year investigation revealed the antipsychotic drugs were being used as a 'chemical cosh' to control patients, contrary to expert advice.
Patients prescribed these drugs were dying on average six months earlier, the Alzheimer's Research Trust found.
But GPs said the drugs were only used "as a last resort".
'Chemical cosh'
Guidelines say they can be given if the patient is severely agitated or violent.
But lead researcher Professor Clive Ballard says in the majority of cases the prescriptions are inappropriate and do more harm than good - doubling the risk of early death.
Estimates suggest that as many as 40% of nursing home residents with Alzheimer's disease - 150,000 people - are prescribed these drugs, known as neuroleptics.
These results are deeply troubling and highlight the urgent need to develop better treatments

Rebecca Wood, chief executive of the Alzheimer's Research Trust
Medicines safety experts know that patients with dementia are three times more likely to have a stroke if they take the drugs.
Professor Ballard and his colleagues from King's College London studied 165 residents with Alzheimer's disease at more than 100 UK nursing homes who were on a neuroleptic drug - chlorpromazine, haloperidol, risperidone, thioridazine or trifluoperazine.
They stopped the drugs for half of the patients and switched them onto dummy pills instead for 12 months.
Premature death
The differences in survival between the two groups were striking.
At 24 months, 78% of the dummy pill group were alive compared with 55% of those still on the neuroleptics.
At 36 months the figures were 62% versus 35%, and at 42 months 60% versus 25%.
Professor Clive Ballard said: "It is very clear that even over a six month period of treatment, there is no benefit of neuroleptics in treating the behaviour in people with Alzheimer's disease when the symptoms are mild."
Instead, psychological therapies should be used, he told the charity's conference in Edinburgh.
Rebecca Wood, chief executive of the Alzheimer's Research Trust, said: "These results are deeply troubling and highlight the urgent need to develop better treatments.
"Seven hundred thousand people are affected by dementia in the UK, a figure that will double in the next 30 years. The government needs to make Alzheimer's research funding a priority."
'Scandalous'
Neil Hunt, chief executive of the Alzheimer's Society, said: "It is a disturbing revelation that confirms some of our worst fears about neuroleptics, which have been the subject of numerous health warnings.
"It is a national scandal that people are being sedated in this way."
He said training for care staff must now be an urgent priority.
Professor Mayur Lakhani, chair of the Royal College of General Practitioners, said: "We would like to reassure patients, relatives and carers that neuroleptic drugs are not routinely prescribed to patients with dementia, and are used only as a last resort when patients suffer from severe episodes."
But he agreed that there needed to be vigilance about the prescribing of these drugs for dementia.
Sheila Scott of the National Care Association said: "There are some serious issues here that care homes, doctors and the Department of Health need to look at."
Gordon Lishman of Age Concern said: "Alzheimer's can be a very difficult condition for patients and those around them but the over reliance on sedatives is not the answer."
The Medicines and Healthcare products Regulatory Agency said it would continue to monitor the unlicensed use of neuroleptics in the treatment of patients with Alzheimer's disease and would carefully review the new study to see what further action might be necessary.

(claims for injuries on or after 06.04.05 will be considered under the Armed Forces Compensation Scheme) Who is it for? Ex-Service men and women, who were injured, disabled or have suffered an illness (physical or psychological) through service in HM Forces. There are also provisions for UDR. RIR, Home Guard, Civil Defence Volunteers, Merchant Seamen, and Polish Forces. Who pays it? Veterans Agency (VA) Norcross Blackpool Free Helpline 0800 169 2277 Tel(overseas) +441253866043 Minicom users 088 169 3458 E-mail [email protected] Internet www.veteransagency.mod.uk Which leaflet? How is it claimed? VA leaflets and claim forms on request. Helpline number. What are the age limits? No. National Insurance based?
Older people should have the right to access independent advice on their long-term care options and the means of funding them, a Counsel and Care paper on care funding says today.
Posted: 31 October 2006 | Full Article
Click on the headline to go therough to the article
Posted: 26 October 2006 | Full Article
Scottish councils are increasingly looking at using technology to meet the needs of clients living in isolated communities. But is it right for everyone? Simon Creasey
Posted: 26 October 2006 | Full Article
Councils can improve outcomes and save money in adult care by switching existing resources into schemes to "re-able" people to live their lives independently.
Posted: 26 October 2006 | Full Article
Council commissioners are in the firing line of a report revealing home care services are inflexible and highly rationed, reports Josephine Hocking
Posted: 26 October 2006 | Full Article
Mark Lloyd's comparison of older people's care in Finland with that in the UK begs the question of whether we have sacrificed quality of life to safety and regulation
Posted: 26 October 2006 | Full Article
An estimated 1000 pensioners are lobbying parliament today in protest against the government's failure to increase the value of the basic state pension immediately.
Posted: 25 October 2006 | Full Article
Can the use of telecare systems tip the balance in allowing vulnerable people to live independently or are they merely a useful adjunct to existing modes of care? David Potter reports
Posted: 19 October 2006 | Full Article
In the heart of the New Forest something of a modern-day Robin Hood tale is emerging.
Posted: 19 October 2006 | Full Article
The National Institute for Health and Clinical Excellence has been condemned for rejecting appeals against its decision to restrict NHS access to four Alzheimer's drugs.
Posted: 19 October 2006 | Full Article
As people with learning difficulties live longer their carers become correspondingly older. A council project in south London is helping meet the needs of older carers. Graham Hopkins reports
Posted: 19 October 2006 | Full Article
All three main political parties recognise the current funding system for adult social care is not sustainable, the author of a landmark prospectus for change said this week.
Posted: 12 October 2006 | Full Article
Care UK could face industrial action in Islington, north London, over plans to halve pay and change conditions for some staff.
Posted: 12 October 2006 | Full Article
Wandsworth Council looks set to give £27,000 to a woman who paid the sum in "unnecessary" nursing care fees for her mother.
Faith Gibson's enthusiasm for reminiscence work shines out of every page, writes Joy Bounds.
Posted: 07 September 2006 | Full Article
Wiltshire Council revealed yesterday that around 220 people with learning difficulties and 150 older people will lose access to day services under changes to eligibility criteria.
Posted: 06 September 2006 | Full Article
A new government strategy for end-of-life care in England should look at creating a more transparent funding system for the voluntary sector, a charity says.
Posted: 07 August 2006 | Full Article
Councils will be judged separately on their performance for each adult social care client group in the future, to counter concerns that older people's services dominate current assessments.
Posted: 07 August 2006 | Full Article
www.communitycare.co.uk will next week be bringing you immediate coverage from the 14th European Social Services conference in Vienna.
Posted: 16 June 2006 | Full Article
A busy hospital entrance is transformed by the presence of seven images by Angela Easterling of older people enjoying a range of physical activities, including "aquacise" and yoga, writes Kathryn Stone.
Posted: 15 June 2006 | Full Article
Knocking down familiar residential care homes to replace them with new extra care units provoked concern from staff and older people. Nancy Nelson talks to Graham Hopkins.
Posted: 15 June 2006 | Full Article
Campaigners have rejected new proposals covering the detention and rights of people who lack mental capacity amid disquiet over appeals procedures. Helen McCormack reports.
Posted: 15 June 2006 | Full Article
James Lampert has become involved with a project to develop an online occupational therapy self-assessment in Kent.
Posted: 15 June 2006 | Full Article
The collapse of joint working in Wiltshire is symptomatic of a wider malaise, writes Christopher Chorley.
Posted: 15 June 2006 | Full Article
The Social Exclusion Unit is to be disbanded and replaced by a new Social Exclusion Taskforce aimed at reaching the most hard to reach groups, it was announced yesterday.
Posted: 14 June 2006 | Full Article
Problems in funding free personal care for older people in Scotland must be resolved if the success of the policy is not to be undermined, a major inquiry has found.
Posted: 13 June 2006 | Full Article
Planned government guidance on the new Mental Capacity Act must give more clarity on the role of advocates, campaigners have warned.
Posted: 12 June 2006 | Full Article
The potential for human rights principles to improve older people's services is not being fulfilled because of ignorance among service providers and suspicion among older people, according to a report published this week.
Care home managers are to be targeted with new guidance detailing how to improve end of life care for residents.
Posted: 29 May 2006 | Full Article
Martin Green is chief executive of the English Community Care Association, whose members are voluntary and private sector residential and nursing care home providers for adults. ECCA published a poll about fee increases by local authorities this week.
More funding is needed in palliative care services to ensure they are meeting the cultural needs of older ethnic minority people, a new report has said.
Posted: 26 May 2006 | Full Article
I sometimes wonder if the Wanless recommendations will come in time to protect my inheritance, or if it will be whittled away by means-testing.
Posted: 18 May 2006 | Full Article
The Treasury is examining how a more modest version of the funding proposal put forward by the Wanless social care review may work in practice, Community Care Live heard yesterday.
Posted: 18 May 2006 | Full Article
The Department of Health is seeking social care staff's views on and experiences of the treatment of older people in the care system, as part of its campaign to promote dignity. The initiative was outlined by care services minister Ivan Lewis in his speech to Community Care Live yesterday, as he launched a new section of the DH website devoted to dignity in care. To respond, visit www.dh.gov.uk/dignityincare Click HERE for all today's articles from the exhibition
Posted: 18 May 2006 | Full Article
Where there are high proportions of older people in local populations, the recruitment and retention of care workers is particularly important. Julie Griffiths finds out how Blackpool Council has developed two schemes to make the job more attractive for existing and future staff.
Posted: 18 May 2006 | Full Article
Three years ago, Lancashire Council embarked on an ambitious and controversial programme to transform residential care services. Despite initial concerns, clients are now beginning to reap the rewards. Derren Hayes reports
Posted: 18 May 2006 | Full Article
Boy of 9 faces rape charge
Posted: 12 May 2006 | Full Article
With a dispersed and ageing population, Cumbria has embraced technology to build a virtual care village. Graham Hopkins reports
Posted: 12 May 2006 | Full Article
Scottish officials must invest far more money in technology to enable people to live in their own homes longer, according to experts in older people's services.
Posted: 11 May 2006 | Full Article
The Work and Families Bill will give carers the right to request flexible working. But campaigners are concerned that the government's definition of a carer is restrictive, writes Gordon Carson
Sixty Second Interview with Gordon Lishman
Posted: 10 May 2006 | Full Article
The new minister for care services Ivan Lewis will be attending our massive two-day annual event Community Care Live 2006 next week.
Posted: 08 May 2006 | Full Article
Reforms to older people's care proposed in a report last week should be implemented now, campaigners have said.
Posted: 04 May 2006 | Full Article
Rather like continental drift, the evolution of social policy takes time to change the world.
Posted: 04 May 2006 | Full Article
NHS cuts in England are falling on older people's and mental health services as trusts battle to clear overall deficits of £900m, it was claimed this week.
Posted: 04 May 2006 | Full Article
People should pay a fixed proportion of their long-term care costs, with the state contributing most, to ensure an equitable system,a report recommends.
Posted: 04 May 2006 | Full Article
The system of charging for care is too complicated for people to understand even after explanation, according to an Age Concern study.
Posted: 03 May 2006 | Full Article
David Donnison is one of the great figures of British social policy. Last month, the urban studies department of Glasgow University, where he is emeritus professor, hosted a reception and lecture by David to mark his 80th birthday.
Posted: 03 May 2006 | Full Article
The government is pledging zero tolerance on elder abuse. Will this be effective?
Posted: 03 May 2006 | Full Article
The death of her husband has left an 88-year-old woman trauma tised, isolated and unable to cope alone. Our panel advises
'Living will' proposals revealed
People will be able to take treatment decisions in advance
Details of plans to allow people to make a "living will" to determine their medical care in advance of incapacity have been unveiled by the government.
Patients with conditions such as Alzheimer's will be able to give "lasting powers of attorney" to a family member or friend.
That person would then be able to make decisions about treatment - including whether to withdraw it.
Critics fear the plans are a step towards legalising euthanasia.
| | |
| --- | --- |
| | The Mental Capacity Act is an important step towards empowering vulnerable people who lack mental capacity to make decisions for themselves |
And some doctors have expressed concerns that refusing to comply with the terms of a living will which stipulated that treatment should be withheld could see them criminalised.
However, the British Medical Association said it was less concerned.
A spokesperson said: "The BMA believes that it would be unlikely that a health professional, who conscientiously objects to fulfilling a patient's advance directive requiring the withdrawal of life-sustaining treatment, but makes a prompt referral to another doctor, would be liable for prosecution.
"However, where a health professional deliberately attempted to frustrate the terms of a valid and applicable advance directive, he or she would be acting outside the law and the BMA could not support them."
Consultation
The draft Code of Practice for implementing the 2004 Mental Capacity Act will now be put out for consultation.
Previously the law has only permitted financial matters to be delegated.
Ministers say the aim of the legislation is to provide a "broad framework" to protect the two million adults in Britain who at some point become unable to make decisions for themselves due to disability or mental illness.
Health Minister Rosie Winterton said: "The Mental Capacity Act is an important step towards empowering vulnerable people who lack mental capacity to make decisions for themselves.
"The Code of Practice will ensure that best practice is followed and strict safeguards are in place to protect these most vulnerable people."
The guide includes an explanation of what it means when a person lacks capacity to make a decision, and of how to make decisions that are in that person's best interests.
It also spells out provisions and safeguards relating to advance decisions to refuse medical treatment in specified circumstances.
In addition, it gives details of the duties and responsibilities of healthcare professionals involved in such treatment and the advice and support available to them.
A spokesperson for Care Not Killing, an alliance representing 28 organisations promoting palliative care and opposed to euthanasia, said: "We look forward to working with the government and other stakeholders to ensure that the final codes of practice do not leave any loopholes to euthanasia by the back door.
"It is essential that doctors are not put in a position where they are forced to abide by advance refusals that they believe are not in their patient's best interests, clinically inappropriate or suicidally motivated."